FAQs
What is Vanastree?
Vanastree, meaning "women of the forest" in Kannada, is a small collective in the Malnad region of the Western Ghats of South India. We are dedicated to promoting forest garden
diversity and food security through the conservation of traditional seeds.
Who We Are
Women farmers play a central and active role in both Vanastree's initiatives and vision. The base of our collective at any time consists of 100 to 150 members located within a radius of 40 km around Sirsi. Vanastree also partners with other agencies to increase the scope of our outreach. We are staffed by two persons at our office in Sirsi town.
Focus Areas
We consider our primary tasks to be: providing a dynamic platform for women gardeners, engaging children and youth in experiential learning programmes, documentation, and supporting a seed saving initiative.
Does Vanastree only have women members?
Vanastree is not gender biased at all! We did begin with a few male members, but by default it's only women who are part of the collective now since the realm of the forest home garden mostly belongs to them. Over the years Vanastree is where our members consistently feel they have an exclusive place for themselves without the presence of men.
The Malnad does have a network of excellent male gardeners too and they are a valuable resource to the collective.
How does male dominated land ownership affect this region's home gardens and women's decision making role/capacity? What are the sorts of resulting tensions that come up regarding commercial versus home use?
In Uttara Kannada district, most of the land – areca orchards, paddies and homesteads – is owned by men, though the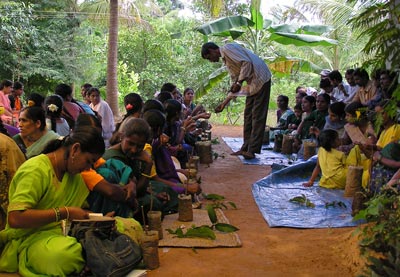 forest home garden (which sometimes includes the orchard) is a place where women do have a say, considering it their domain. It is clear that while men take decisions related to species of high commercial value (like areca and spices in the orchard), women are more centred around species that they choose to cultivate which may not have a high monetary value.
With more paddy and other land being turned into areca orchards, there is a pressure on what species will survive in the shrinking home gardens. So without tensions as such, there are gender dominated roles in the mosaic of land ownership, species selection and economic drivers.
How is Vanastree funded?
Vanastree has largely managed to be self-funded and supports itself through designing and carrying out camps and learning modules for school children and youth and through donations. We do occasionally apply for small grants to fund specific activities—while maintaining a firm ethical funding policy where potential donors and funders are reviewed for their social and environmental track record. Our overheads are kept as low as possible, and we have interns and volunteers who contribute significantly to the ongoing office and field work.
Vanastree works in the Malnad – an area not yet affected by extreme poverty. Given this, how does Vanastree make a significant difference in places facing stress and crisis?
Vanastree is located in an area where the age-old culture and practice of forest home gardens (FHGs) still survives—with over 300 species found in some gardens. The region is a great repository of plant diversity that provides food security and access to nutrition.
While seed exchange is common, it was not until the women came together as seed groups that they realised the value and far reaching potential of their food garden skills. To endorse and preserve this in its place of origin is one of Vanastree's objectives.
Focusing outside of the Malnad, through partner agencies we provide our learning modules, seeds, and products to areas with deficits (especially drylands). An applied example—we currently have a longterm outreach project in Chamarajanagar, a drought prone, under-developed district in Karnataka. This is in collaboration with Punarchith, a local trust working on an alternative, integrated learning programme for rural youth. While we have not measured the impact of this aspect of our work, we have reached out to places and people locally and throughout the sub-continent.
What were the early years of Vanastree like?
Vanastree began in 2001 in the village of Neernalli, six km from Sirsi town. On March 8, 2001 (it was just a coincidence that it happened to be Women's Day!) one of the early members,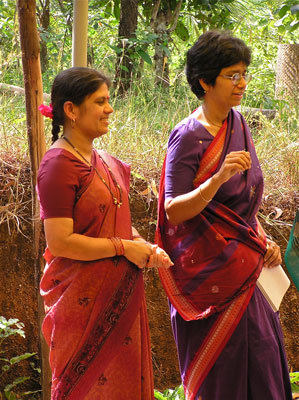 Kamala, gifted a small collection of her home garden seeds for the initiative to begin.
Shortly afterwards, the founder moved to a derelict forest farm 18 km from Sirsi and 3 km from the main road. There was no phone for three years. The local postman, Seshadri, voluntarily distributed our pamphlets along with his letters. Seed group meetings were organised through word of mouth in various villages and those interested joined. The group was called The Malnad Forest Garden & Seed Exchange Collective. It was only in 2007 that the name Vanastree was coined. Postman Seshadri is a cook and his services were used for several training sessions!
The early years had members who were slowly growing in numbers. We met in town at the bus stand or head Post Office where there were wooden benches to sit on, or a nearby temple under a tree. There was mostly exchange of seeds, but training workshops were organised in village homes or public buildings.
From 2001, a festival was organised each year to bring together growers and producers as a celebration. In 2004, the women decided that it would be good to actually sell seeds and other products at these festivals—which were soon called Malnad Melas.
In 2008, we managed to hire a bright, airy office space in Sirsi town. One of the first reactions of the women was that finally they would have a toilet to use when they made the long trip into town!
The journey of our group evolved further once local farmer Manorama Joshi joined us, and it is her shared vision and leadership skills that largely steered Vanastree till 2018.
Is Vanastree involved in any policy or advocacy work?
While Vanastree supports activists working towards more equitable and sane food, seed and gender policies, we ourselves are more field based.
Our strength lies in being part of the food justice movement through our community work with women farmers and gardeners, producing high quality organic, open pollinated seeds of traditional varieties for the home garden and field, and being engaged in experiential learning and skill share programmes.
We would however, consider welcoming experts and scholars who want to work with us on policy issues.
What are Vanastree's plans to upscale?
Vanastree has no plans to upscale or become an institution. Our vision centres around being a modest, decentralised, but replicable model that people from other places, rural and urban,
can easily learn from and adapt for their own specific locales and needs. We believe that the soul and effectivity of a progressive initiative seeking meaningful social change lies in being rooted in small—even nano!—scale models.
What are Vanastree's goals for the future?
Specific goals include having:
• a Forest Garden Art & Ecology Resource Centre, with a strong seed production unit for domestic and wild vegetables including tubers
• additional non-farmer members who can support office, outreach and education work