Internships
Trekking from the coasts to the jungles…. photo documenting garden diversity, collecting seeds for Vanastree's seed bank, and talking with the women who propagated them year after year, I returned home knowing that I would never take a bite of food for granted again.
—Tuula Rebhahn, Vanastree intern 2008
The women of Vanastree and the community we live and work in, have a unique and gracious way of integrating people from various cultures into the traditional lifestyle of the Malnad.
How the Internships Began
What began as a casual visit by a student from the University of Oregon in 2004, has evolved into a very successful internship programme that has hosted over 35 interns.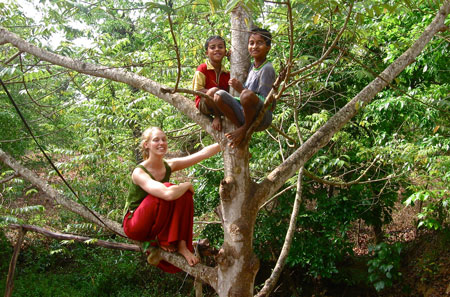 These are typically young university students who acquire academic credits for their time with us. Most of them are from schools outside of India where the systems of education encourage and support such invaluable life experiences. We continue making an effort to get local interns, and within a few Indian universities the trend is gradually shifting to recognising the worth of internships by incorporating them into their regular curriculum. Thesis students are also accepted but should be in touch at least a year before arrival. We are also open to non-academic applicants and age is no bar! Internship opportunities are available in both the Malnad and our outreach site in the Mysuru region.
Intense and Immersive
The internship demands a high level of commitment, openness and integrity from the student. Interns live in village homestays, interact with the community, help with field and office work and become an intrinsic part of the environment they are living in and learning from. The internship fosters independence, personal growth, self-reflection and the ability to appreciate things one frequently takes for granted. It facilitates an understanding of how forest gardens and the communities that tend them are a dynamic working model—providing living solutions to many of our current food problems. It can also help to learn lessons in laughter and lightness, no matter how grave the challenge or problem is. Many interns have said that their time with us has created a much needed upwelling, steering them towards life-changing decisions in their personal, academic and professional spheres. Most say that this has been a remarkable and memorable slice of time in their lives.
Duration: 12-24 weeks
Internship activities: Starting with a detailed orientation to India and the Malnad, we offer a variety of pathways for our interns to explore. Learn the basics of Kannada language while living in a local homestay. Take on a mix of indoor and outdoor work including gardening, farming, and local field visits.
Learn a craft or how to cook traditional recipes. Get involved with documentation, research, writing and editing. Other options include photography, graphic design and art, and help with children's camps and workshops. We design our internships in synch with personal interests and academic needs.
Our Seasons:
October – January (15-30°C)
This is the best time of year in many ways. Garden and orchard work, rice, areca, pepper, turmeric and amla harvest, seed saving, field visits, student camps, livelihood activities, the Malnad Mela, office work, seed group meetings and workshops happen at this time. Interns can also travel during Xmas break.
February – May (20-35°C)
Although rather hot and humid during the day from March, mornings and nights are pleasant and pre-monsoon showers in May bring respite. This is the time for mangoes, jackfruit, sugarcane and kokam! Activities include the summer garden, seed saving, traditional food processing, a study tour, outreach visits, and preparations for the Malnad monsoon.
June – September
Internships are closed in this season as we have monsoon rains for four months.
To apply: CV and brief statement of purpose required.
I was seeking an unusual group that would fulfill my deep longing to connect with seeds, plants and people. I found it in Vanastree! Each day has been a new one with a new experience, energy and awakening.
—Vanishree Bhat, Vanastree intern 2013
I was more like an insider participating rather than an outsider observing.
—Tina von Roedern, Vanastree intern 2008
It's humbling to partake in everyday life so different from what Americans are used to. I was shocked by how at home I felt in India. The homestay experiences were incredible and I try to stay in touch with the people who reshaped my life. I feel lucky to have stumbled across such a sustainable non-profit organization.
—Chelsea Mackin Vanastree intern 2011
Click an Image Below to View the Internship Gallery Slideshow