Vanastree is:
• A women-run seed saving collective in the Malnad region of the Western Ghats in Southern India
• A critical force for initiating empowerment and the socio-economic security of its members
• A facilitator for the production of quality organic seeds and products
• A provider of experiential learning programmes rooted in community and agroecology
Please click here for a list of currently available seeds. Email completed forms & payment confirmation to [email protected] Our seed coordinator will respond.
Women of the Forest
We are a women-farmers' collective based in the Western Ghats of tropical South India dedicated to promoting forest garden biodiversity and small scale food systems through the conservation of traditional seeds and tubers. Vanastree means "women of the forest" and the agrarian communities here are part of an age-old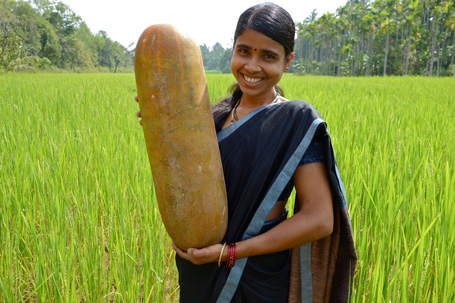 way of life where the wilderness, spice orchards, paddies and homesteads are closely intertwined. The role of women farmers and gardeners is seen as integral to the social, cultural and ecological fabric of the unique Malnad region where our collective is located.
Small and Beautiful
Key to all of our initiatives, Vanastree demonstrates that challenges related to global food security and positive social change do have dynamic solutions that exist as small-scale working models in local ecosystems.